Kelly DeHart, D.O.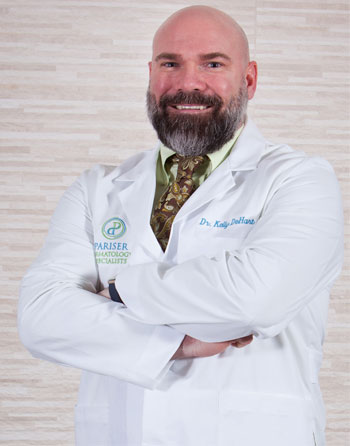 Request an Appointment
757 622-6315
Undergraduate
Bluefield College, Bluefield, VA 1995-1999 B.S. Biology, minor Chemistry
Medical School
West Virginia School of Osteopathic Medicine, Lewisburg, WV 2000-2004 D.O.
Internship
UHHS Richmond Heights Hospital-Richmond Heights, OH 2004-2005
Residency
Case Western Reserve University, Cleveland, OH 2005-2008
Board Certifications
American Osteopathic College of Dermatology
Member
American Osteopathic Association, American Osteopathic College of Dermatology
---
Locations
733 Volvo Pkwy, Suite 120
Chesapeake, VA 23320
(757) 389-5544
(757) 410-4619 fax
Get Directions
11842 Rock Landing Dr, Suite 120
Newport News, Virginia, 23606
(757) 595-8816
(757)596-8183 fax
Get Directions
---
About Kelly DeHart, D.O.
Dr. William Kelly DeHart is originally from Southwest Virginia and has an identical twin brother who is also a dermatologist at Pariser Dermatology Dr. Kelly DeHart enjoys treating all skin disorders and offers the convenience of early morning appointments.
In his spare time, he enjoys going to the gym, playing several sports (racquetball, basketball and golf), reading, and spending time with friends.
Actual Patient Reviews:
Kelly DeHart 9
"It was such a pleasure to be treated with respect and have an assertive team to take action for me. Thank you!"
Kelly DeHart 8
Dr. Kelly Dehart is the best!!  He always listens and gives you as much time as possible." -Newport News, VA
Kelly DeHart 7
"Dr Kelly DeHart was very professional, pleasant and easy to talk to. All of my concerns were answered and I left my visit completely satisfied."
Kelly DeHart 6
"Dr. Kelly DeHart and Melissa were very friendly, thorough and made sure I was comfortable throughout my procedure. The reception staff was also personable and friendly"
Kelly DeHart 5
"I am very pleased with my experience at your clinic. My daughter sees Dr Kelly DeHart also and she is also very satisfied with her experiences."
Kelly DeHart 4
"I could not ask for more from dr. Kelly DeHart. He and his staff have been very caring and efficient. I wish all care facilities could be the same."
Kelly DeHart 3
"service is always outstanding with Dr. Kelly DeHart Also, the nurse(forgot name) who removed the lesion from my head was exceptional"
Kelly DeHart 2
"Dr. Kelly DeHart has a reassuring, kind bedside manner! I came from a much different practice and I am so comfortable at the dermatologist now."
Kelly DeHart 1
"Kelly DeHart is the best!"