Mohs surgery is a surgical technique used for the treatment of certain skin cancers. During the procedure, thin layers of skin tissue are removed and examined under a microscope. This is done layer-by-layer until only healthy tissue remains. This procedure spares the greatest amount of healthy tissue, leaves minimal scarring, and makes the surgical defect as small as possible. Originally developed by Dr. Frederic E. Mohs in the 1930s, Mohs surgery is the treatment of choice for basal cell carcinomas and squamous cell carcinomas of the skin.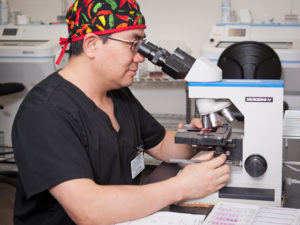 At Pariser Dermatology Specialists, we perform an average of 3,000 Mohs Surgeries each year. Our primary goal during the procedure is to keep our patients are as comfortable as possible. Before undergoing Mohs surgery, our team will explain what will happen before, during and after the procedure so you know exactly what to expect.
What does Mohs Surgery Involve?
During the procedure, the surgeon will remove the visible portion of the cancer and a temporary bandage will be placed on your incision. 

The tissue is taken to the laboratory for analysis and is processed by a histotechnologist. 

If cancer cells are found, another layer of cancerous tissue will be precisely removed. By using this technique, only areas with cancer cells are sequentially removed and normal healthy tissue is preserved.
The removal process will continue layer by layer until microscopically there is no longer any evidence of cancer remaining in the surgical site. Depending on the size of the resulting wound it may be left to heal on its own, closed with stitches, or reconstructed by a local plastic surgeon.
Mohs Surgery at Pariser Dermatology
Pariser Dermatology Specialists is proud to have two board-certified Mohs surgeons on our team: Dr. Lawrence Chang and Dr. James Bota.  Dr. Chang performs Mohs surgery, as well as other skin surgeries, at our Norfolk and Newport News offices.  Dr. Bota sees patients in our Williamsburg and Suffolk locations. 
If you are referred to either Dr. Chang or Dr. Bota by another dermatologist, you will initially be scheduled for a consultation which will help determine the best treatment plan for you. If your surgery does not require the Mohs surgical technique, we might be able to perform your surgery the same day as your consultation. If our Mohs surgeon determines that the Mohs technique is the best approach, the procedure will be scheduled for another day.
If we can help address any questions you have, or provide additional information about Mohs Surgery, please call us at 757-622-6315 or email us at info@pariserderm.com.