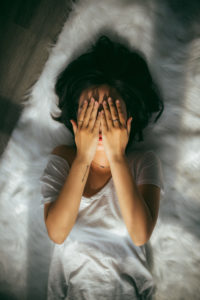 If eczema is haunting your dreams (quite literally), you're not alone. In fact, over 10% of people in the U.S., about 31.6 million people, have some form of eczema according to the National Eczema Association.
In some cases, children may outgrow eczema, but some people will experience symptoms throughout their adult life.
While you may have to live with the condition throughout life, the good news is you don't have to tolerate the challenging symptoms that often accompany eczema. 
Dr. Baer to the Rescue: 5 Tips to Relieve Eczema Symptoms
We sat down with one of Pariser Dermatology Specialist's dermatologists,  Dr. Robert Baer to understand how eczema is caused, how to recognize it, what it means for someone with the condition, and his top five tips for relief.
What is eczema?
We're all born with different skin conditions. If you're prone to eczema, your immune system is simply different, and you react differently to allergens, pollen and dander.
Someone with this condition has microscopic cracks and crevices along the surface of their skin, making them more prone to dry skin. These cracks are where pollen and allergens enter. As a result, patches of skin become inflamed, itchy, cracked and rough. [Read more…] about Is Eczema Keeping You Awake at Night? Our Dermatologist Shares 5 Tips for Relief