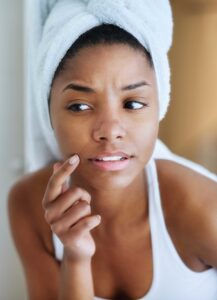 Looking close at yourself in the mirror, you might see a few areas of your body that you wouldn't mind improving, especially on your skin. You are not alone. Research shows that 59% of people in the United States admit to not being happy with the condition of their skin. Fortunately, a procedure called microneedling can help you improve your skin's appearance. Microneedling is a popular, versatile skin treatment that improves a variety of skin conditions.
Here's a rundown on everything you need to know about professional microneedling.
What Is Microneedling?
Microneedling, also called collagen induction treatment, is a therapy designed to rejuvenate the skin. With this type of procedure, an aesthetician uses needles to create tiny punctures on your skin's top layer. These "controlled wounds" cause your body to produce new elastin and collagen. The professional performing your procedure will adjust the needle sizes during the procedure to generate the desired results.
How Does Microneedling Work?
When your skin is wounded, your body sends fibroblasts to produce more collagen in the affected area. Basically, microneedling works by "tricking" the skin into believing that it's been wounded so that it produces more collagen. This makes your skin plumper and improves its texture. Although the procedure is often used on the face, microneedling can also be performed on the neck and chest area where it will also provide a collagen boost.
How Frequently Should Microneedling Be Done?
We recommend a series of 3-6 treatments depending on the severity of your skin issues and the result you want to achieve. After the initial series of treatments we advise patients to continue with "maintenance" treatments every 6 months to a year to give your skin a refreshing reboot.
How Painful Is Microneedling?
If you're worried about experiencing pain with this procedure, there's no need to worry. That's because a numbing cream can help to take away the minimal pain associated with this procedure. After the procedure, you may feel a little discomfort, much like what you'd feel after being sunburned. We will send you home with a post-procedure soothing product such as Alastin Skincare's Regenerating Skin Nectar that calms the skin and helps reduce recovery time.
What Are the Risks of Microneedling?
Microneedling doesn't come without some risks that are worth considering before you schedule your procedure. For starters, microneedling isn't a quick skin fix. Instead, it may take time for you to notice a major difference in your skin. The reason for this is that it takes time for your body to heal itself. As a general rule of thumb, you may not see any changes until you have completed multiple treatments. Also, you may not be a good candidate for this procedure if you currently have large bubble-like scars on your skin, called keloids. Microneedling may worsen this condition.
What Are the Benefits of Microneedling Performed By an Aesthetician?
Microneedling performed by a professional can enhance your skin's overall look by enhancing its texture and stimulating collagen production. Additionally, this procedure can also help with reducing hyperpigmentation and scars. And, it may be useful for reducing wrinkles. Following your microneedling treatments, you should see improvements in mild wrinkles and acne scars. You may also notice that your skin is somewhat tighter.
What Is the Cost of This Skin Care Treatment?
At Pariser Dermatology, microneedling generally costs $375 for each session. A big benefit of microneedling is that it is less costly than a laser treatments. Microneedling costs vary based on factors such as the patient's skin condition, geographical location, and practitioner. Speak with your prospective provider to find out what your procedure will cost depending on your unique needs and expectations.
What About Home Microneedling?
You may be tempted to try home microneedling tools in an effort to save time and money. However, at-home microneedling devices typically use shorter needles. As a result, they won't penetrate your skin as deeply. This means that although at-home needles are safe and user-friendly, they won't generate the same level of results you would get from going to a professional. At-home kits may temporarily stimulate your blood vessels, resulting in brighter skin. However, you'll enjoy more noticeable and longer-lasting results by enlisting the help of a professional who is versed in all of aspects of microneedling.
Are There Any Side Effects to Professional Microneedling?
Professional microneedling does come with a few side effects. You might experience a minor amount of pain following your procedure. In addition, your skin might be a reddish color for several days. Fortunately, the redness should go away relatively quickly, sometimes even after a few hours. After your procedure, you might also experience some skin peeling. The flaking skin might additionally feel a bit tight while it's healing. You will experience light bleeding during the microneedling procedure. This is how we know we've affected the skin barrier. If you undergo a deep microneedling treatment, it's not uncommon to experience some bruising, too.
What Is the Aftercare?
We recommend wearing sunscreen every day.  However, you should refrain from wearing sunscreen and make-up for 24 hours after your procedure. You should also avoid direct sunlight on the treated area. This is especially important after you've had microneedling as your skin will be extra sensitive.  Also, avoid acids and retinol, such as salicylic and glycolic acids. These ingredients are too strong for skin that has just undergone microneedling.
After your procedure, be sure to also keep your skin well hydrated. Use mild cleansers and hydrating serums. Avoid using exfoliating scrubs, as these abrasive products can irritate your treated skin within the first few days following your treatment.
What Is the Healing Time?
Recovering from microneedling will likely take 24-48 hours. A deeper treatment might take up to 3-4 days. Your skin might initially be red during the first day after your procedure. You may even experience some swelling within the first couple of days as well. All of these side effects should subside in several days. Healing time is affected by how deeply your microneedling needles pierced your skin.
What Conditions Does Microneedling Treat?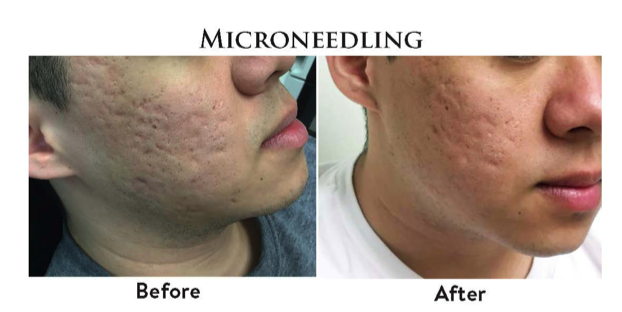 Microneedling can heal acne scars. This happens because the treatment smooths out your skin and fills in these scars. The treatment can also reduce your skin's pore size. If you have struggled with tiny bumps that form due to clogged pores, microneedling can address these, too. Microneedling can also address the following conditions:
Decreased skin elasticity
Hyperpigmentation (dark patches or spots on the skin)
Sun damage
Acne
Fine lines
You can also use this procedure simply to brighten dull skin leading to a more vibrant appearance.
What Skin Types Benefit From Microneedling?
Microneedling works well for every skin color and type. However, you shouldn't undergo microneedling if any part of your skin is infected or inflamed. Avoid undergoing microneedling if you currently take a blood thinner or drink alcohol frequently. A blood thinner will increase your risk of bleeding. In addition, heavy alcohol consumption will dehydrate you and, in turn, render your treatment ineffective. Speak with your doctor about whether microneedling is appropriate for your skin.
Microneedling Options
In addition to standard microneedling treatments administered by The SkinPen, we also offer microneedling with PRP and The Vivace Experience.  Microneedling with PRP involves the use off your platelet rich plasma which contains your body's most powerful healing properties and
growth factors.  When these growth factors are concentrated and reintroduced into the skin through the open channels created with microneedling, they boost rejuvenation of damaged tissue. No additional downtime in needed when adding PRP to microneedling.
The Vivace Experience is the newest generation of radio frequency microneedling, and is FDA-cleared for your safety. This minimally-invasive treatment stimulates the natural production of collagen and is shown to be effective in alleviating facial wrinkles, fine lines, scars, and helps in tightening and toning the face, neck, hands, and body. We start with the most revolutionary, best-in-class Vivace Microneedling Radio Frequency (RF) device, designed for a comfortable patient experience. The Vivace boasts a precision robotic motor that brings discomfort to a minimum level compared to other devices. The collagen and elastin you make is your own and continues accelerated production over the next six months as results improve over time.
How We Can Help
Microneedling performed by a certified aesthetician can help to improve the look and feel of your skin. This skin care solution, which works with every skin type, is a fast and convenient way to help you feel better in your skin. At Pariser Dermatology Specialists, we're happy to help you "love the skin you're in" with our microneedling services. Call us at 757-313-5813 to book your appointment today!
Request a Cosmetic Consultation with an Aesthetician