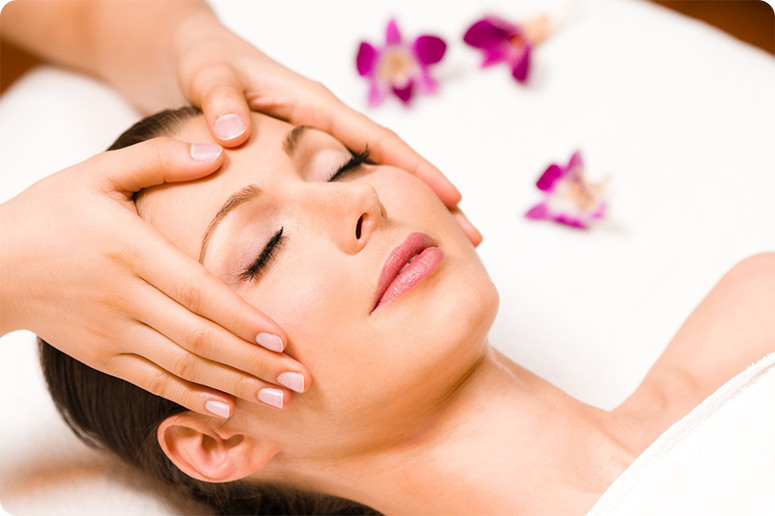 Who doesn't want to reverse the signs of aging? There is no magic potion to prevent aging, but in addition to healthy lifestyle habits, getting a facial can help slow the process and reduce signs of aging. There are hundreds of pressure points on the face connected to various systems in the body. These pressure points are stimulated when you get a facial which can improve the health of your skin. But what is a facial exactly? How does it work? And which skin types does it benefit?
If you've never had a facial before, you might be wondering if this form of skin care is right for you. This guide will explain the different types of facials, as well as the benefits to your skin. We'll answer frequently asked questions so you can feel confident in knowing what's involved before you book the procedure.
What Are the Different Types of Facials?
There are several types of facial treatments. Each uses a different technique that targets a variety of skin issues. Chemical peels are similar to facials, but use chemical solutions to affect the surface layer of your skin. A facial uses serums and products to clean pores, extract blackheads, and moisturize the skin. Recovery time for a facial is little to none while a chemical peel may have some minimal side effects that require some time to recover. Facial massages use a deep massage technique to sculpt and relax the skin. Deep clean facials exfoliate and extract toxins from the skin. And hydrafacial treatments create a vortex effect to dislodge and remove impurities and deliver hydrating skin solutions. You can also choose from a combination of these approaches by opting for a custom combination. There's a reason there are so many types of facials—to address unique skin types and skin issues. But sometimes the endless options can be overwhelming. If you're not sure which type of facial is best for you, book a consult with one of our aestheticians. They'll examine and analyze your skin type to help determine which facial treatment is best for you.
Who Can Get a Facial?
Based on the correlation with the beginning of skin problems, your teenage years are a good time to begin getting facials to keep your skin clear and vibrant. Facials benefit most any stage of life due to their versatile nature. You can get facials regularly, provided you are not dealing with any of the following skin-related conditions.
Active Rash Sunburn
Allergies
Active Cold Sores
Serious Medical Conditions (Diabetes/Heart Disease)
Open Wounds
What Skin Types Are Good for Facials?
Facials are less invasive than other skin procedures such as surgical options and don't require downtime for recovery. After the procedure, you can carry on with your day. All skin types can benefit from facial treatments, whether it's dry skin, oily skin, or sensitive skin. The aesthetician will customize your facial to best suit your skin type. A classic facial will benefit all skin types. It provides moisture, relaxes the skin, and rejuvenates each skin cell.
Can I Get a Facial If I Have Sensitive Skin?
If you're getting a facial for the first time, you might be wondering if your sensitive skin will be a problem. Before you book a facial, make sure you do your research. People who struggle with sensitive skin should avoid treatments with exfoliation. It can cause the skin to become inflamed. Instead, look for a soothing treatment that hydrates the skin. A hydrafacial treatment is one of the best treatments for those concerned about agitating their skin. This is in part because hyaluronic acid is beneficial for sensitive skin. The treatment does not come with side effects, and should not require any downtime, regardless of your sensitive skin. But before getting any treatment, make sure you speak to the technician—who should always be board certified. An aesthetician will listen to your concerns and tailor your treatment to your skin's unique needs. This can prevent your sensitive skin from flaring up.
If you do experience sensitivity during the treatment, it is important to speak up. Getting a facial shouldn't hurt or cause discomfort. If you feel like something isn't right, make sure to let your aesthetician know.
How Are Facial Treatments Beneficial for Your Skin?
Facial treatments offer a wide variety of benefits to your skin and your mental and physical well-being. Here are some of the benefits you will experience when you get a facial.
Acne Treatment
If you struggle with acne, you likely also struggle with scarring from acne. When you pop a pimple, you increase the risk of marks being left behind on your skin. This can be frustrating when you're trying to cover them up with makeup. But during a facial, technicians will often use salicylic acid to treat the skin.
Anti Aging
Most of us want to preserve our youthful glow. And facials help reduce the effects of aging. When you go for regular facials, you promote the rejuvenation of skin cells. Facials also encourage collagen production. This keeps your skin looking renewed and healthy.
Circulation
In the same way that massages help promote healthy circulation in the body, facials promote healthy circulation in your skin. When you get a facial treatment, you increase the amount of oxygen your cells receive. This helps to create healthier skin cells and a more radiant complexion.
Cleanse & Exfoliate
You can compare a facial treatment to a dental cleaning. Sure, you clean your teeth multiple times a day at home, but you will never get things quite as clean as the dental hygienist does. The same can be said for your skin. Technicians know how to treat every skin type. They will do a deep cleanse and make sure your skin is good and clean, creating a healthier glow.
Open Up the Pores
During a facial, the procedure opens up pores. This helps remove dead skin cells and toxins. It allows your skin to breathe. This helps eliminate issues with acne as well as other frustrating skin issues.
Texture
If you find your skin is looking a bit rough or bumpy, there's a chance it's time for a facial.
During a treatment, technicians will spend time extracting whiteheads and blackheads that may be impacting the skin texture. They will also exfoliate to remove dead skin cells that may be making your skin feel rough.
Tighten the Skin
If you're sick of feeling like your skin is sagging, you will be happy to know that a facial will help tighten things up. When you get a facial, products like chemical peels, lotions, and masks add natural extracts to your face. These extracts promote collagen production, increasing the elasticity of the skin, particularly around the face and neck.
What Is a Hydrafacial?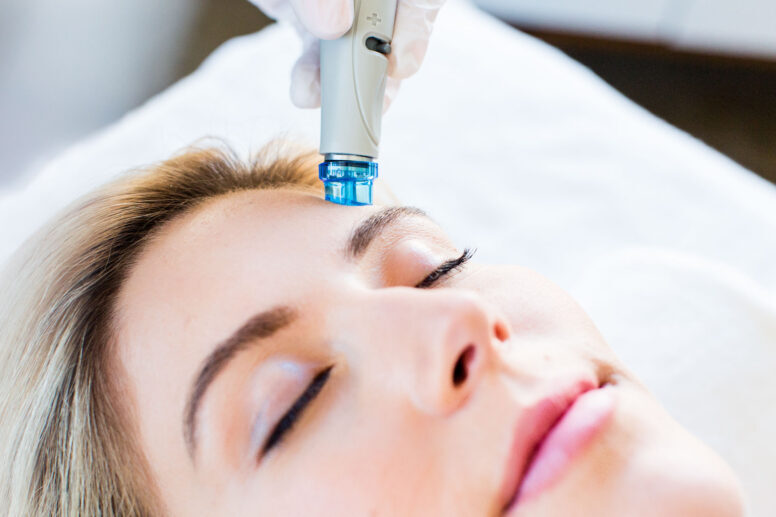 Unlike traditional facials, the hydrafacial uses a device rather than the aesthetician's hands for deeper penetration and longer lasting results. The hydrafacial treatment device is a Vortex-Fusion system—similar to a vacuum to pull out impurities before infusing antioxidants and serums into the face and detox the skin. The serums include essential acids like hyaluronic acid, peptides, and amino acids. During the process, a technician uses dermabrasion to remove dead skin cells on the outer layer of the skin. The procedure works to hydrate and exfoliate while improving the overall health of the skin.
What Are the Benefits of a Hydrafacial?
Hydrafacials offer many benefits to your skin. The skin care treatment improves your skin's appearance. It will give your face a more balanced and even texture. It also improves its tone.
The HydraFacial can help with:
Fine lines and wrinkles
Brown spots
Enlarged pores
Oily and congested skin
Exfoliation removes debris from the skin, allowing serums to treat the skin. This leaves the skin feeling purified and clean. Hydrafacials improve your circulation and the production of collagen, which helps prevent premature aging.
The procedure addresses a number of skin concerns, whether it's adding hydration to the skin, sculpting, or lifting and tightening. It can address acne problems and improve uneven skin tones—addressing areas that endure sun damage. If you're looking for a way to calm your skin, a hydrafacial is a great way to restore balance.
What Should I Expect from a Hydrafacial?
You should be able to see positive results after just one hydrafacial treatment. Occasionally people may experience slight redness or a feeling of tightened skin for a couple of hours after the treatment. But in general, there is little to no downtime with a hydrafacial.
Technicians may suggest avoiding makeup for 24 hours. The best results may not be seen for 3 to 5 days, so it's best not to get a hydrafacial the day of an event. But you will be able to carry on with your day following your appointment. You will notice your skin feels softer and more hydrated. Getting a hydrafacial also opens up your pores, allowing home skin care products like moisturizers to absorb more effectively. This can help products treat your skin, giving you great long-term results and a radiant glow.
How Often Should I Get a Facial?
After your first facial, your skin will feel clean, fresh and hydrated. Regular sessions will continue to improve your skin's condition. You should see positive results from a facial treatment that lasts four to six weeks. But lasting results are also impacted by the facial treatment you get and the care you put into your skin after the treatment. It also depends on your skin type, as different skin types will yield different results.
If you can, consider booking a facial monthly. This is the length of a skin cycle. It will allow skin cells to regenerate. When you book a facials treatment regularly you will encourage the skin cycle process. Professionals often say that the skin care you can do at home can't replicate a facial treatment. That's why it is important to go regularly.
We're Your Facial Treatment Experts
All of our aestheticians are expertly trained and certified to provide a wide variety of facials. Whether you want to clear up oily skin, rehydrate dry skin or simply refresh your skin while you relax in one of our calming treatment rooms, you'll find it here at Pariser Dermatology.
Interested in a Facial? Call 757-313-5813 to make an appointment.
 Request a cosmetic appointment online