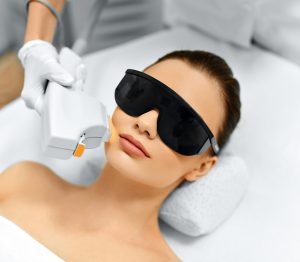 Technological discoveries have led to advancements in all areas of our lives. Laser treatments in cosmetic dermatology are no exception. Lasers use microscopic beams of light to stimulate collagen production and promote cellular renewal. Today's lasers are more effective than ever and can help improve a wide variety of skin conditions.
Cosmetic Laser Treatment Areas
Whether you want to achieve a healthy glow or you need a more intense treatment, chances are there's a specific laser designed to address your specific goals. Here at Pariser Dermatology, we use cosmetic lasers to:
Reduce fine lines and wrinkles and soften deep frown lines
Fade "port wine stain", hemangiomas and "café au lait" birthmarks
Diminish brown spots
Reduce acne scars
Remove and reduce unwanted hair
Stimulate collagen growth for healthier, smoother skin
Zap broken blood vessels
Reduce the symptoms of rosacea
Types of Cosmetic Lasers
There are two main types of lasers used for cosmetic treatments:  1) Ablative and 2) Non-ablative. Ablative lasers actually remove the top layer of skin, while non-ablative lasers work by heating up the underlying skin tissue, without harming the surface, triggering your body to produce new collagen. The providers at Pariser Dermatology are trained to use a variety of laser devices including:
C02 laser
Erbium laser
Pulsed-Dye laser
Fractional laser
Q-Switch ClearLift
Alexandrite laser
Nd: YAG
Intense Pulsed Light (technically not a laser, but is used to treat many of the same concerns)
Laser Hair Reduction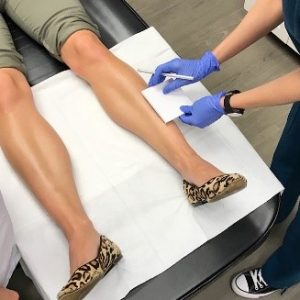 Laser hair reduction is one of our most popular laser procedures. The pigment within the hair absorbs light from the laser and converts it into heat. The heat is transmitted to the hair follicle and destroys it without damaging the skin. The laser treatment makes it difficult for the hair follicle to produce new hair. For optimal results treatments are repeated in 4-10 weeks, depending on the area treated. After each treatment, hair growth will become softer and less noticeable. Maintenance treatments are usually needed periodically. Click here to learn more about laser hair reduction.
Intense Pulsed Light (IPL)
Intense Pulsed Light, or IPL, is sometimes referred to as photo rejuvenation or a "photo facial". Technically, it is not considered a laser. It uses intense pulses of light from more than one wavelength to penetrate and target unwanted color in the skin. IPL is effective in evening out skin tone and rejuvenating the skin. IPL can treat skin that is discolored from sun damage or aging, broken blood vessels, rosacea and even reduce unwanted body hair.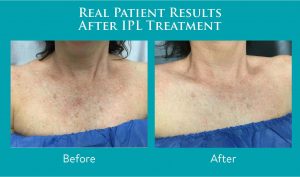 Book Your Consultation
To determine the type of laser treatment best for you, we recommend that you discuss your skin concerns and what you hope to achieve with your medical provider. Our professionals will determine the best device and method of treatment for your unique skin type.
To schedule your cosmetic consultation, call our cosmetic coordinator today at 757-313-5813 or  Request an Appointment Online