Modern non-surgical and minimally invasive cosmetic procedures are more advanced, more effective and in more demand. Non-surgical treatments are also generally less expensive and require less recovery time than surgical alternatives. Gone are the days of being ashamed of having "work done". Now it's common to be more open about our cosmetic treatments and willing to share our experiences. Cosmetic enhancements along with "before & after" pictures are popular topics on social media and conversations in general.
Where to Go for Cosmetic Services
If you're one of the millions of Americans looking for the perfect provider of cosmetic services, you might be overwhelmed. Search the internet and you'll find a long list of options ranging from medical spas and beauty bars to dermatologists and plastic surgeons.
A variety of options exist that offer non-surgical cosmetic procedures, treatments and products. Two of the most popular options are dermatology practices and medical spas or "med spas".
Dermatology Office or Med Spa—what's the Difference?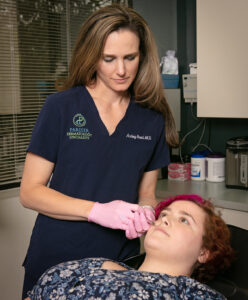 Dermatologists are medical doctors with extensive education, certification, and experience. They are board-certified to treat all conditions affecting the skin, hair and nails. A dermatologist oversees and treats nearly any skincare issue you may experience, both general and cosmetic. They also have the authority to write you a prescription for more advanced skincare needs.
A med spa focuses more on the cosmetic side of skincare. These locations offer many treatments—such as injectables, facials, and more—but a trained dermatologist might not oversee the procedures. This means the med spa may not be able to address the deeper medical issues causing your skin problems, and instead, they may focus on more superficial or temporary solutions. Med spas also cannot diagnose skin conditions or provide a prescription for medical-grade products.
Why Dermatology Practices are the Better Choice
Choosing an aesthetician who is part of a dermatology practice has many of the following benefits.
Aestheticians at dermatology practices work very closely with supervising physicians. At Pariser Dermatology our aestheticians and medical providers work as a team to provide a customized approach to skin treatment.
Your aesthetician can obtain the opinion of a medical doctor for anything they see on your skin that is out of the ordinary or a potential cause for concern.
Dermatologist offices have more treatment options available than a medical spa. In addition to services that an aesthetician can perform under their license, they also perform treatments such as micro needling, Ultherapy®, Coolsculpting® and more advanced laser treatments.
When you establish a relationship with a dermatologist and aesthetician in the same practice you'll get a comprehensive approach to anti-aging and skin health. The dermatologists and the aesthetician share the same medical records so all of your skin care concerns are available for review by both providers. This is important when making a medical diagnosis or when determining which products to use for your facial.
Services are available to you under one roof. For example, you can get a HydraFacial®, Botox® injections and full-body skin cancer check in the same office. You can take comfort in knowing that a board-certified dermatologist is on location in the rare circumstance that a problem occurs.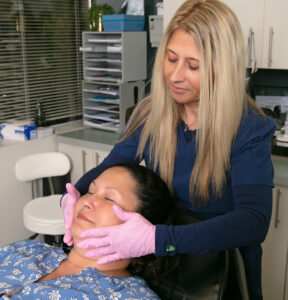 The Team Approach
"Working closely with our dermatologists gives me the confidence and sense of security that I need knowing that my patients are getting the best and most comprehensive skin care, says Kyla Porter, one of Pariser Dermatology's aestheticians who works in the Norfolk office location. "For example, when treating a patient with acne scarring, I might perform micro needling and then my supervising physician might improve the results with some injectable filler," said Kyla.
Pariser Dermatology Specialists is proud to offer both medical and cosmetic solutions for all of your skincare needs.  Call us today at 757-313-5813 to book your cosmetic consultation with one of our aestheticians. Your aesthetician will examine your skin and set up a plan to help you achieve your unique skincare goals.