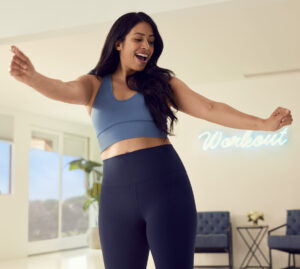 CoolSculpting® is FDA-cleared to treat visible fat bulges in 9 different areas of the body. The treatment can reduce fat "pockets" and help contour your body. Usually requiring more than one session, this innovative technique harnesses the power of cooled temperatures to effectively reduce targeted fat deposits with minimal pain, little downtime, and lasting results. If you're considering CoolSculpting, read on to learn exactly how it works and what kind of results to expect.
What is CoolSculpting?
CoolSculpting is an innovative body sculpting treatment administered by a trained CoolSculpting specialist. It uses controlled cooling technology to freeze and destroy fat cells, resulting in permanent fat reduction. The expired fat cells are permanently eliminated and absorbed through your body's natural process. This non-invasive procedure is low risk and requires little to no downtime, making it a quicker and safer alternative to more invasive treatments such as liposuction.
There are several other fat loss treatments on the market today. One popular option is liposuction, which we'll explore below. Here are answers to some of the most commonly asked questions we receive about CoolSculpting treatments.
How Does CoolSculpting Work?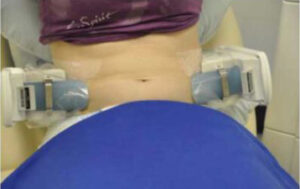 You know it helps freeze and eliminate fat cells. But what's actually going on during that process? The machine delivers controlled cooling through an applicator. It targets the fat cells underneath your skin and simultaneously crystallizes (freezes) and destroys those cells.
After CoolSculpting has done its job, your body will naturally process the fat and eliminate the dead cells. The result can give you a more sculpted look.
However, we recommend you help your body process and eliminate those fat cells. Getting lymphatic drainage massages once a week for about three weeks following your treatment can help your body break down and drain those fat cells. Likewise, you'll need to drink plenty of water and exercise to see the best results.
Is it Permanent?
CoolSculpting is clinically proven as a safe and effective way to rid your body of those stubborn areas of fat that are impossible to eliminate with diet and exercise alone. While other treatments temporarily reduce water weight, CoolSculpting targets fat and eliminates fat cells for good. CoolSculpting involves freezing the fat cells through a process called cryolipolysis, essentially eliminating them by causing them to die. Once the fat cells die, the body naturally eliminates them on its own, giving you permanent results with no downtime or extensive recovery times like some other treatments require.
Is CoolSculpting Worth It?
Are you tired of those stubborn pockets of fat that never seem to budge? We understand just how difficult and discouraging feels. Diet and exercise may not be enough for some people. Science has proven that genetics is one factor that determines our body weight. This is especially true if you have pockets of fat in places like your abdomen, upper arms, and thighs. Sometimes it's just nature, and you need a little help losing the extra fat. If you're struggling to get rid of small fat bulges, then yes, CoolSculpting is absolutely worth it. The procedure promises results in as little as a few months, with no incisions or anesthetics required. If you're serious about getting rid of excess fat, it might be worth giving CoolSculpting a try.
Is it Painful?
No. At least, it shouldn't be. CoolSculpting typically isn't painful but may cause slight discomfort. People have described mild tugging, aching, or stinging during the procedure. Then, after the treatment is over, your specialist will massage the area to help break up the frozen tissue. Some people find this slightly uncomfortable. Usually, the pain felt is minimal and doesn't last. However, if you're worried about the pain, chat with your provider before you schedule your first session. Discuss possible pain with the person performing your CoolSculpting procedure so you can be adequately prepared for what's to come.
Treatment Areas
CoolSculpting® is FDA-cleared to treat visible fat bulges in 9 different areas of the body. You can use it to treat stubborn fat in the following areas:
Abdomen
Flanks (love handles)
Inner and outer thighs
Upper arms
Submental area (under the chin)
Under the jawline
Back fat
Bra fat
Under the buttocks (banana roll)
It's especially popular for those looking to reduce fat around their tummy, arms, and legs. Let's briefly explore the 9 basic treatment areas of the body.
Abdomen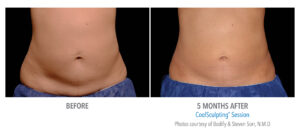 It's discouraging to lose weight in other areas but have that extra padding around our midsections. Unfortunately, it's often the last area where we lose fat and sometimes the easiest for us to gain back. Unfortunately, this type of fat is especially difficult to lose due to certain hormones that make it harder for the body to lose weight in specific areas. Enter CoolSculpting! Not only is CoolSculpting a safe option, but you may start seeing results in as little as three weeks after your first session and with each subsequent procedure. After several sessions, your tummy will be noticeably slimmer and more toned.
Flanks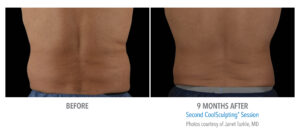 Both men and women can have fat around their flanks. However, women tend to store more fat on their flanks, which can reduce the appearance of the waist and natural curves. While this may feel like an unsightly affliction, it is quite normal, as there is a physiological reason behind why this happens. Women possess high levels of estrogen, and studies have found that it tells their bodies to store fat on their hips and thighs to help regulate their menstrual cycles, among other things. Since it's an evolutionary thing, it's tough to get rid of fat here. It's difficult to do crunches or strength exercises to target your flanks, making CoolSculpting a great treatment option for this part of your body.
Thighs
Again, this is a problem area that's more common with women. While men can carry fat on their thighs, women tend to complain about flabby areas on their inner and outer thighs. Female hormones, such as estradiol, encourage fat storage around the thighs, hips, and bottom. Consequently, this can lead to large thighs resistant to physical activity.
Arms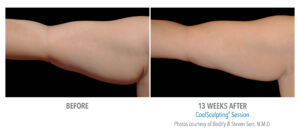 Factors such as age, sex, and genetics all play a role in the size of our arms. However, excess fat deposits can cause arms to look large and out of proportion to the rest of your body. The good news is there are manageable ways you can reduce the fat on your upper arms. In addition to following a healthy lifestyle including a low-fat diet and a regular exercise regimen. Aerobic exercises such as kickboxing or running, and strength-training can especially strengthen your arms. Even better, you can do all of that and get CoolSculpting treatments on your arms. It's especially helpful for those with fat on their upper arms (commonly called "bingo wings").
Submental/Chin
Not only can it reduce fat under the chin and under the jawline by up to 25%, but CoolSculpting may also improve tissue laxity and retraction in this area. This combination of benefits can even improve your profile after multiple treatments.
Back
Regardless of their body shape, some people battle back fat and/or bra fat. This type of fat storage tends to be genetic. Unfortunately, there's no surefire way to avoid back fat completely. Adopting a healthier lifestyle and regular exercise can help minimize it. However, CoolSculpting is often an effective way to reduce the size of those fat cells and eliminate them entirely.
Under the Buttocks
Did you know that CoolSculpting can treat the buttocks area? The "banana roll" is that stubborn fat deposit that sits at the top of the upper thigh, where it meets the crease of our buttock. This area is notoriously resistant to diet and exercise. CoolSculpting may help restore a smoother appearance to this area and add a boost of contour to your backside.
Benefits of CoolSculpting
Aside from reduced fat, what are some other benefits of CoolSculpting compared to surgical procedures or non-surgical treatments? It stands out from similar treatments because it promises long-term effects with minimal side effects and discomfort. This cosmetic treatment can effectively reduce fat build-ups by 20-25%, eliminating stubborn fat without invasive procedures. There's little to no downtime associated with this non-surgical procedure, making it the perfect choice for anyone struggling with body contouring woes. Overall, CoolSculpting is an effective way to aesthetically enhance your appearance without commitments and with nearly zero risks.
Risks of CoolSculpting
Generally considered safe, there are some risks and potential complications associated with the procedure.
Skin Sensitivity: After CoolSculpting, some patients may experience skin sensitivity, redness, or swelling in the treated area. This is generally mild and resolves on its own within a few days.
Nerve Damage: In rare cases, the procedure may damage nerves in the treated area, leading to numbness, tingling, or a loss of sensation. This is typically temporary, but in rare cases, it may be permanent.
Pain: Some patients may experience pain or discomfort during or after the procedure, which may require pain medication or other treatment.
Paradoxical Adipose Hyperplasia (PAH): PAH is a rare side effect that causes the treated area to increase in size rather than decrease.
Infection: Any time the skin is broken, there is a risk of infection. While CoolSculpting is a non-invasive procedure, there is still a small risk of infection at the site of treatment.
Bruising: Some patients may experience bruising in the treated area, which is generally mild and resolves on its own within a few days.
Unintended Results: CoolSculpting is designed to reduce fat in specific areas of the body. If the applicator is not placed correctly, the treated area may be uneven or asymmetrical.
It's important to note that most patients experience few if any complications with CoolSculpting. However, it's important to discuss any potential risks or concerns with your medical provider before undergoing the procedure.
What to Expect During Your Treatment
After your free consult with one of our CoolSculpting specialists, you'll be ready to book your actual treatment. Let's walk you through what to expect during your treatment. When you arrive for the CoolSculpting treatment, your specialist will place the applicator on your treatment area. You'll feel a slight suction sensation as it adheres to your body, followed by that signature cooling effect. As the CoolSculpting treatment starts, you may experience sensations like pulling, tugging, mild pinching, intense cold, tingling, stinging, aching, and cramping at the treatment site. It's your body's natural reaction to the suction and the cool sensation.
Once these sensations subside, you'll no longer feel discomfort as the area becomes numb. We recommend you sit back, relax, and enjoy the process. Following the procedure, your provider will briefly massage the treated area. You don't need any anesthesia, and we don't use any needles! CoolSculpting treatments produce long-term results with minimal interruption to your daily routine.
CoolSculpting vs. Laser Lipo
Which one is better, CoolSculpting or laser lipo? First, let's walk you through what laser lipo is. Utilizing high laser intensity, laser lipo helps to reduce fat cells throughout the body in a safe and (slightly) non-invasive way. Unlike traditional liposuction, laser lipo doesn't involve surgery or recovery time, making it an option for those wanting to cut down on their waistline quickly and effectively.
Sounds a lot like CoolSculpting, right? It is similar. However, laser lipo does involve a small incision. This means that it's more invasive than CoolSculpting. For example, with CoolSculpting, you can return to your daily activities soon after the procedure. After laser lipo, doctors recommend avoiding strenuous activity for a few days. When it comes to laser lipo and CoolSculpting, both treatments can provide excellent results when done properly. However, most people find that laser lipo has more noticeable effects in less time than CoolSculpting. With laser lipo, targeted laser light is used to heat and melt fat cells, allowing lumps to be removed quickly and efficiently. On the other hand, CoolSculpting uses controlled cooling to freeze unwanted fat away and is entirely non-invasive.
The kind of result you're seeking and how much time you have or are willing to dedicate to treatments will determine which option is better for you. Liposuction can provide fast results. However, CoolSculpting is less invasive and less expensive.
Who Is CoolSculpting For?
It's an ideal treatment for anybody needing help losing stubborn fat in one or more of the 9 target areas of the body. CoolSculpting candidates are typically those already within 10-15 pounds of their ideal body weight but can't seem to progress in certain areas despite regular exercise and dieting. Whether it's unwanted bulges around the waist, love handles, or that pesky double chin, CoolSculpting is an effective solution to freeze fat away. CoolSculpting provides a safe and effective way to maintain their shape without resorting to painful surgery or extensive recovery times. Unfortunately, it's not ideal for those with excess weight or skin. If you believe the treatment will lead to excess, saggy skin, you might consider a surgical procedure.
Speaking with a medical provider during your CoolSculpting consult is the best way to determine if the treatment is right for you. Our providers offer free CoolSculpting consults before actually administering the treatments. Bring your list of questions to your consult. The bottom line? If you're looking for a more sculpted physique without extreme treatments, CoolSculpting may be the perfect fit for you.
Is CoolSculpting Safe?
Not only have CoolSculpting treatments been proven effective in reducing fat, but they are also very safe. Why is it so safe? First of all, it doesn't require the use of needles and it doesn't require the use of anesthesia. This reduces the risk of complications in several ways. However, we're also not injecting you with fat-dissolving liquids that can harm your body.
If you're unsure if it's right for you, we suggest that you book a free consultation with one of our CoolSculpting specialists. During your consultation, they'll look at your body and listen to your concerns. Together, they will help you develop the right approach for your body type to achieve the optimal CoolSculpting results. Overall, CoolSculpting is designed to target stubborn fat cells safely with no medical complications.
CoolSculpting and Weight Loss
CoolSculpting is a body contouring treatment and is not intended to help with weight loss, so it's very unlikely that you will lose a significant amount of weight when you use this treatment. However, most patients will be able to lose at least two to five pounds of body fat when they use the treatment. It's a great way to get rid of stubborn fat in specific areas that don't respond well to diet and exercise, like a "belly pooch" or "muffin top" and it's non-invasive and low risk. But weight loss requires more than eliminating small pockets of resistant fat. You need to make sustainable lifestyle changes if you want lasting weight loss results. CoolSculpting is a great addition to your weight loss plan, but relying on it solely won't magically make you lose pounds of body weight.
CoolSculpting Cost
We know that cost is a major consideration when it comes to CoolSculpting. We wish we could give you a more accurate estimate, but it ultimately depends on how many areas you want to target and how many treatments are needed. While the average cost is $3,200, CoolSculpting can range from $2,000 to $4,000. However, it varies from one patient to the next. It's important to book a free consult with one of our specialists who will recommend the best course of action for your individual needs and will provide you with an estimate.
How to Find the Best CoolSculpting Provider
Making sure you've found the best CoolSculpting provider for your needs can help you get the best out of CoolSculpting. So it's worth it to take some time to compare your options.
When comparing different CoolSculpting providers, you'll want to look at their services and expertise to see what kind of CoolSculpting treatments they offer and how long they've been offering them. It's important to ensure you're working with a certified provider who has experience with CoolSculpting treatments.
Schedule a Consultation
If you are interested in CoolSculpting at one of our offices in Norfolk, Williamsburg or Suffolk, book a free consult today! Our qualified staff can help assess your needs and then work with you to develop a treatment plan. We're here for you every step of the way. Contact us today at 757-313-5813 or click here to request a free CoolSculpting Consult.