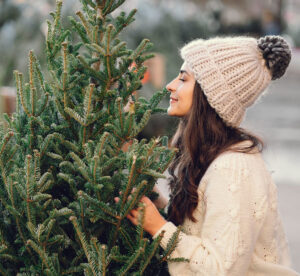 There's something magical about the fragrance of a freshly cut Christmas tree, wreath or decorative trimmings. Inhaling the invigorating, piney scent can actually bring back memories that go as far back as early childhood. That's one reason many choose freshly cut trees over artificial trees.  But, did you know that a cut tree can trigger allergies or asthma in those susceptible? "Christmas Tree Syndrome", or "Christmas Tree Dermatitis" are terms used to describe this type of allergy. Surprisingly, the pine pollen, a common allergen other times of the year, is not the main culprit lurking in your fresh cut tree.  Here are some common triggers:
Mold can cause watery eyes, runny nose and trouble breathing.
Dust on branches and some lingering pollen from the pine or other plants could contribute to a lesser extent.
The irritating material that comes from the sticky sap is called colophony or rosin. It can cause a rash similar to one from poison ivy, developing a day or two after touching the tree.
Some people with sensitive skin could get red, itchy spots simply from needles poking the skin, similar to irritation from scratchy sweaters.
In a 2011 study published in the Annals of Allergy, Asthma and Immunology, more than 50 kinds of mold were found on samples researchers brought in from their own Christmas trees. Many common culprits for allergies were among the bunch.
Some ways to lessen the allergic effects of your fresh cut tree are:
Use the service at tree lots where a machine shakes off dirt and dead needles.
Hose down your real tree before you bring it inside and let it dry for a few days in a garage or outside if it's warm enough to knock off mold, pollen and dirt.
Wear long sleeves and gloves to avoid needle pricks and sap. Change clothes when you're done.
Consider placing an air purifier in the room with your tree.
If you are one of many who simply love fresh cut trees, we hope these tips help you to avoid any related allergies.  If allergic symptoms do occur the providers here at Pariser Dermatology are here to help.  Happy Holidays!