By Tina Watkins, FNP-C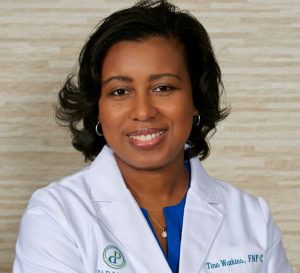 Melanin: Nature's Sunscreen
Those with darker skin tones are more protected from the damaging effects of the sun because their skin contains more melanin, a dark brown to black pigment occurring in the hair, skin, and iris of the eye.  Think of melanin as nature's sunscreen. However, increased melanin does not make anyone completely immune to the damaging effects of ultraviolet light exposure including skin cancer and photo aging.
All Skin Tones Need Sun Protection
Unfortunately, because skin cancers such as melanoma in skin of color are viewed as uncommon, evaluation is often delayed. Delaying evaluation means when skin cancer is diagnosed, it is typically more advanced. The hands and feet are common areas for melanomas to appear on darker skin tones. Everyone, regardless of skin color should protect their skin by wearing a broad-spectrum sunscreen of at least SPF 30 and seeking shade when outside.  I know it can be difficult to find a sunscreen that offers coverage without leaving a chalky film on the skin. However, there are many great new companies and products that absorb well into the skin without the worry of the feeling like you're wearing a mask. Some of my favorites are Unsun mineral sunscreen and EltaMD UV Clear sunscreen.
Conditions More Common in Skin of Color
There are additional skin issues that are particularly challenging when dealing with skin of color including:
Eczema is believed to occur twice as frequently in children with dark skin, according to com. Inflammatory conditions if not evaluated properly may be viewed as less severe in those with skin of color. Inflammation on dark skin is often not red or pink but can have a purple or burgundy appearance.
African Americans tend to have oiler skin as the number and size of oil glands are larger in comparison to other ethnicities. Good news, oily skin ages slower. That's right, less wrinkles. Bad news, oily skin is more prone to have acne, particularly inflammatory acne lesions. This type of acne can leave dark spots or hyperpigmentation on the skin even after the acne has cleared.
Pseudofolliculitis barbae (those annoying bumps that affect men and women particularly after shaving). When curly hair regrows after shaving it does not grow in a straight line but rather curls back into the skin causing bumps or inflammation.
Keloids are areas of abnormal scarring that often appear after injuries. There are many in-office procedures, such as corticosteroid injections, that can help improve the appearance or flatten these areas over time. The best results are seen when treatment begins early.
Vitiligo, a condition in which loss of skin pigmentation occurs. There are multiple prescription topical therapies that are helpful. Light based treatments also known as phototherapy is another option. Over the counter foundations and concealers such as Dermablend can temporarily help to even out one's skin tone.
We're Here for You
Every skin tone has its' unique set of challenges. We make it our mission to understand and treat skin all conditions common to all skin types. The providers at Pariser Dermatology Specialists also stay up to date on the latest research and treatment options to provide you with the best care.
If you'd like to schedule an appointment, call us at 757-622-6315 today. Or click the button below to request an appointment online.