Onychorrhexis can manifest as nail brittleness, horizontal or longitudinal ridges, and frequent nail splitting or breaking. This condition can be caused by various factors, such as frequent exposure to water, harsh chemicals, nutritional deficiencies, or underlying health issues.
Finding the right products to address Onychorrhexis can be overwhelming, considering the wide array of options available in the market. Below is a list of products known for their ability to strengthen and nourish nails picked by Dr. Buehler.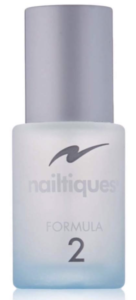 Nailtiques is a totally different nail care system proven to help nails that are inclined to peel, break or split. It promotes natural nail growth. Long, strong nails do not just happen. They must be carefully treated on a regular basis. After a few weeks of treatment, improvement in the condition of your nails, cuticles and hands will be noticed.