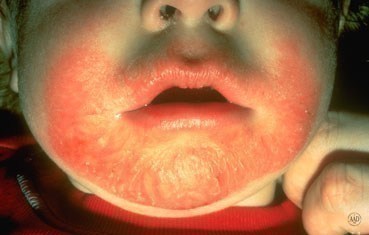 This is a common skin disease in children. It is so common that people have given it a few names:
Eczema (name most people use).
Dermatitis.
Atopic (a-top-ic) eczema.
Atopic dermatitis.
To avoid confusion, we'll use the medical term atopic dermatitis.
Children often get atopic dermatitis (AD) during their first year of life. If a child gets AD during this time, dry and scaly patches appear on the skin. These patches often appear on the scalp, forehead, and face. These patches are very common on the cheeks.
No matter where it appears, AD is often very itchy. Infants may rub their skin against bedding or carpeting to relieve the itch.
In children of all ages, the itch can be so intense that a child cannot sleep. Scratching can lead to a skin infection.
Because atopic dermatitis can be long lasting, it is important to learn how to take care of the skin. Treatment and good skin care can alleviate much of the discomfort.
Atopic dermatitis: Diagnosis, treatment, and outcome
How do dermatologists diagnose atopic dermatitis?
To diagnose atopic dermatitis (AD), a dermatologist begins by looking at the child's skin. The dermatologist will look for a rash. The dermatologist also will ask questions. It is important for the dermatologist to know whether the child has itchy skin. The dermatologist also needs to know whether blood relatives have had AD, asthma, or hay fever.
Sometimes a dermatologist will perform a patch test. This medical test is used to find allergies. It involves placing tiny amounts of allergens (substances that cause allergies for some people) on the child's skin. The dermatologist will check the skin for reactions. Checks are often done after a few hours, 24 hours, and 72 hours. Studies suggest that some allergens can make AD worse.
How do dermatologists treat atopic dermatitis?
Prevent the AD from getting worse.
Calm the skin, relieving pain and itch.
Reduce emotional stress.
Prevent infections.
Stop the skin from thickening. Thickened skin often itches all the time — even when the AD is not flaring.
A treatment plan often includes medicine, skin care, and lifestyle changes. Skin care and lifestyle changes can help prevent flare-ups. Many patients receive tips for coping. Doing all of this may seem bothersome, but sticking to the plan can make a big difference.
A dermatologist will create a treatment plan tailored to the patient's needs. Medicine and other therapies will be prescribed as needed to:
Control itching.
Reduce skin inflammation (redness and swelling).
Clear infection.
Loosen and remove scaly lesions.
Reduce new lesions from forming.
Outcome
Studies have found that when AD develops in an infant or young child, the child tends to get better with time. For some children, the condition completely disappears by age 2.
About half (50%) of the children who get AD will have it as an adult. The good news is that the AD often becomes milder with age.
There is no way to know whether the AD will go away or be a lifelong disease. This makes treatment very important. Treatment can stop the AD from getting worse. Treatment also helps to relieve the discomfort.