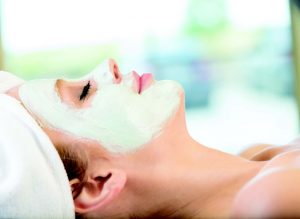 We are all wearing face masks right now, but not the kind we'd LIKE to be wearing! Our aestheticians have temporarily stopped providing in-person custom facials in effort to help slow the spread of COVID-19.
Wearing face coverings so often can wreak havoc on your skin, causing what's being called "maskne", a term used to describe acne in the area under your mask. Sweating from frequent mask-wearing can also cause miliaria or "heat rash" and can trigger rosacea, perioral dermatitis, as well as seborrheic dermatitis, a dandruff-like facial redness with scaling.
Helpful Tips for Irritated Skin
There are 3 important ways to counteract the effects of mask irritation:  cleanse, exfoliate and moisturize your skin daily. NEVER wear a dirty face mask. It's important to wash cloth face masks every day and discard disposable face masks. Wearing the same disposable face mask for more than one day can cause a build-up of dirt and oil combined with the humidity formed with each exhale. That's a breeding ground for bacteria.
The At-Home Alternative
While we look forward to providing our signature facials in the future, you might want to try an at-home mask. There are a variety of options on the market but one that we recommend is the Epionce® Enriched Firming Mask. This hydrating mask is expertly formulated with botanical ingredients to help soothe and improve the visible appearance of elasticity and firmness of the skin. With highly emollient properties and a proprietary blend of barrier lipids, Enriched Firming Mask helps calm visible redness and irritation.  And, it gives skin a visible boost of hydration.
How to Apply the Epionce® Enriched Firming Mask
The Enriched Firming Mask may be used at home once or twice a week, as needed, to give your skin an extra boost of soothing hydration. As with other Epionce products, a little goes a long way, so you probably won't need more than one tablespoon of mask for adequate coverage. Lightly massage the mask into your skin after application, but it won't completely absorb into the skin immediately. Leave on 5 – 20 minutes, then rinse with warm water. You may also opt to not rinse, and leave it on the skin overnight for extra hydrating benefit. It is excellent to use following a chemical peel, IPL or laser resurfacing treatment.
The Epionce® Enriched Firming Mask is available at our online store. Click here to learn more and purchase yours today.