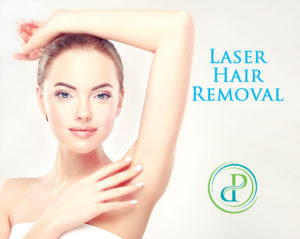 Do you struggle with random, wiry sprouts of hair in places where you DON'T want hair to grow? Are you tired of having to tweeze, wax or shave–Every. Single. Day? Whether you're battling unwanted facial hair or simply want to reduce hair growth to attain baby-smooth skin, laser hair removal might be the answer for you.
"While one of my patients is suffering with dark hair growth on her upper lip, another patient I treat simply wants to reduce how often she has to shave her legs," says Pariser Dermatology Specialists' Master Aesthetician, Amy Vernon.  Amy performs laser hair removal on approximately 5 – 7 patients per week at the Pariser office in Virginia Beach. "LHR is just one of the many services I provide every day. The results significantly improve the quality of life for most of my patients which is why I love what I do. Making people feel better about themselves is such a great feeling!"
Who Benefits from Laser Removal
"I treat both men and women for a variety of reasons", Amy says. Men who want to reduce the amount of hair on their back, stomach or chest are great candidates. Laser hair treatments will remove hair from the ears and also reduce how often they have to shave their face. "You might want to call it manscaping", Amy says with a grin.  Laser hair removal can also reduce the chances of getting ingrown hairs.
In addition to removing unwanted hair on their chin or upper lip, women prefer laser hair treatments on their legs, underarms or bikini area. The laser is even able to efficiently perform a Brazilian laser hair treatment where all of the pubic hair is removed.
In some cases, patients who suffer with medical conditions such as Hidradenitis Suppurativa or Folliculitis might see improvements in their condition after receiving laser hair removal treatments.
Regardless of the reason for seeking laser hair removal, one criterium must be met:  the hair must have some pigment. "The only hair we can't treat with laser hair removal is either white or gray," Amy says.  Patients who want to remove white or gray hair are referred to seek other treatments such as electrolysis.
How Laser Hair Removal Works
The laser instrument beams highly concentrated light into the hair follicle.  The pigment within the hair absorbs light and converts it into heat. The heat is transmitted to the hair follicle and destroys it without damaging the skin. Laser treatments make it difficult for the hair follicle to produce new hair. For optimal results, treatments should be repeated every 6 weeks. After each treatment, hair growth will become softer and less noticeable.
"We're thrilled with our new laser! The Motus AX is an alexandrite laser that is safe and effective for any color of skin when targeting unwanted hair, says Whitney Henry, Master Aesthetician in Pariser's Norfolk office. "Did I mention it's painless?  Most of our patients schedule a series of treatments every 4-6 weeks, resulting in a reduction of terminal hair with each treatment."
Preparing for Your Laser Hair Treatment
Our aestheticians will ask you to adhere to the following guidelines before your laser hair removal treatments:
Do not pluck, tweeze, wax or use a chemical depilatory (such as Nair®) for a month prior to your treatment.
You should shave the area to be treated the day before your treatment, but not the OF your treatment. Some hair needs to be visible in order for the laser device to work effectively.
Don't arrive for your appointment with a suntan. Wear sunscreen whenever you're out in the sun.
If you are preparing for laser hair treatment on your face, do not use retinol or a skin lightening agent during the week prior to your treatment.
After Your Laser Hair Treatment
While there might be some tenderness immediately after your laser hair treatment, the results are instant and most of the hair treated is gone.  After your treatment you should:
Refrain from working out, sweating or overheating yourself for a few days
Stay out of the sun for a week, or wear SPF 30+ sunscreen and protective clothing
Avoid hot tubs, Jacuzzis or saunas for a few days
The number of treatments required to keep the growth under control varies by patient, but most patients reach maximum results with 6-8 treatments scheduled 6 weeks apart. Now is the perfect time to begin your laser hair treatments and be "hair-free and carefree" by this spring!
If you'd like to learn more about laser hair removal or any of the other cosmetic treatments we offer at Pariser Dermatology Specialists, make an appointment for a consultation with one of our aestheticians.
Call us at 757-313-5813 or request an appointment online.