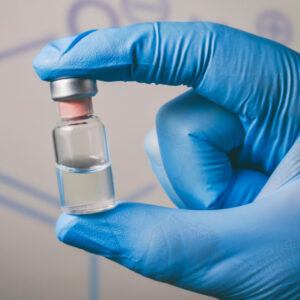 Dermatologists prescribe different types of medications to treat a variety of skin conditions. Common medications prescribed include corticosteroids to reduce inflammation and topical or oral antibiotics to treat bacterial infections. One of the most significant breakthroughs in the field of dermatology is the introduction of biologic medications. Biologics are a game changer in treating a variety of inflammatory skin diseases such as psoriasis and atopic dermatitis.
What Are Biologics?
Many skin diseases, such as atopic dermatitis (eczema) and psoriasis, are driven by our own immune system. For example, those with atopic dermatitis are genetically predisposed to microscopic cracks in their skin, which allows allergens and irritants to enter their skin. The immune system then overreacts to these allergens with an inflammatory response, causing scaly, dry, red skin to develop. Similarly, with psoriasis, certain factors stimulate the immune system to release chemical messengers, such as interleukins. These messengers trigger skin cells to proliferate excessively. This immune response results in the typical red, scaly plaques associated with psoriasis.
Biologics are oral or injectable medications that usually inhibit a specific immune messenger, dampening the immune dysregulation associated with the corresponding skin disease. This inhibition occurs by binding to the chemical messenger itself or preventing the messenger from binding to its target. Currently, there are several biologics approved and they act on several different components of the immune system.  "Biologics have positively impacted the quality of life for patients across different medical specialties.  A majority of patients are now seeing almost clear to completely clear skin for the first time in their lives," says Pariser Dermatology Specialist Dr. Kevin DeHart.
According to the American Academy of Dermatology, there are 11 biologic medications currently approved to treat psoriasis. This includes:
Cimzia® (certolizumab pegol)
Cosentyx® (secukinumab)
Enbrel® (etanercept)
Humira® (adalimumab)
Ilumya™ (tildrakizumab)
Remicade® (infliximab)
Siliq1™ (brodalumab)
Skyrizi™ (risankizumab)
Stelara® (ustekinumab)
Taltz® (ixekizumab)
Tremfya™ (guselkumab)
Some of these medications also treat psoriatic arthritis as well. Biologic medications can also treat atopic dermatitis (Dupixent®),hidradenitis suppurativa, urticaria and pemphigus vulgaris.
Side Effects Associated with Biologics
Since biologics are acting on the immune system, patients using these medications can be more susceptible to infections, such as tuberculosis. "However, all medications have potential side effects. Biologics have unique side effect profiles and the risks and benefits of all prescribed medications are discussed with each patient.  In my experience, biologics are overall well tolerated and side effects are usually manageable.  I also inquire about any side effects at each follow up visit.  Additionally, biologic websites have additional, comprehensive patient information and some biologic companies even have in-person and/or virtual nurses to help with additional patient concerns," says Dr. DeHart.
Are Biologic Medications Covered by Medical Insurance?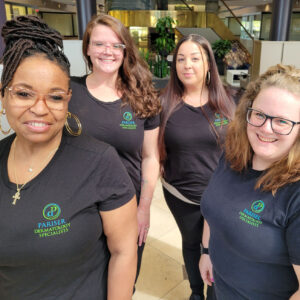 Sometimes, the process of starting biologic medications can seem overwhelming. Insurance companies often require prior authorization before agreeing to cover the cost of biologic medications. This can be a long and intimidating process. But don't worry – our "Prior Auth Team" is dedicated to doing everything needed to get your medication approved and to you as quickly as possible.
The entire process can take up to a month to complete, but usually takes about 2 weeks IF all of the required information is provided up front.  Patients can help to shorten the length of time for approval. Auth Team member Haylie Cox encourages patients to "Bring all of your documentation to all of your appointments including both your medical insurance card and prescription card."  Another bit of advice from Auth Team member, Chelsey Guganus is to "Be patient…There is a lot going on behind the scenes and we really are doing our best to get approvals as quickly as possible." 
Biologic medications are an essential tool dermatologists prescribe to treat skin conditions, such as psoriasis, eczema and urticaria. Although the insurance approval of these medications can be challenging, don't worry! The physicians, medical practitioners, and "Prior Auth Team" at Pariser Dermatology Specialists are here to help! Call us at 757-622-6315 to schedule an appointment today.