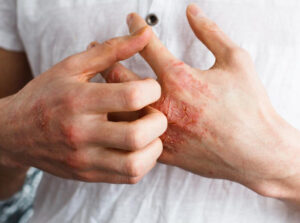 Winter is here and with the snow and hot chocolate comes the typical dry and flaky skin seen with cold weather. Some are able to manage their dry skin with over the counter products, but for those with eczema, controlling your eczema during the winter can be very challenging. Let's explore this condition commonly diagnosed by dermatologists.  
What Is Eczema?
Eczema, also known as atopic dermatitis, is extremely common and affects patients of all races and skin colors. According to the National Eczema Foundation, 31.6 million adults in the United States suffer from eczema. Children are also prone to atopic dermatitis, affecting 9.6 million children in the United States alone. Childhood atopic dermatitis is actually on the rise over the past several decades. Those prone to asthma and food allergies usually have a higher risk of developing eczema.
Atopic dermatitis often presents as scaly, dry, red skin and appears commonly on the elbows and behind the knees. Those with atopic dermatitis are usually genetically predisposed to tiny cracks along their skin layer, allowing allergens and irritants to enter into their skin. These allergens activate your body's immune response and cause inflammation. The inflamed areas are usually itchy, and excessive scratching exacerbates eczema by further breaking down the skin barrier. This allows more allergens to enter the skin causing the cycle of inflammation to continue. Some of the irritants that trigger eczema, reported by the National Eczema Foundation  are:
Metals
Fragranced body products (ex: shampoos, body wash, etc.)
Fabrics (ex: wool, polyester)
Formaldehyde (found in household chemical products)
Certain foods
Temporary tattoo dye
Another important trigger is environmental stimuli, such as cold weather. "During the winter, the combination of the cold, dry air outside and the dry heat pumping into our homes makes it challenging to maintain a healthy skin barrier. When you mix winter air with someone who has eczema prone skin, it's a recipe for disaster! The skin becomes dry and even more prone to tiny breaks in the skin surface, which often leads to more frequent flaring of eczema during the winter months," says Pariser Dermatology's Dr. Rachel Byrd.
What You Can Do to Control Your Eczema
There are several daily changes that you can make to help get your eczema under control, as recommended by the American Academy of Dermatology. Here are some tips to avoid atopic dermatitis flares:
Try hard not to scratch as this can exacerbate your eczema. Use anti-itch medications, such as an over-the-counter antihistamine and hydrocortisone cream to relieve itching.
Wear clothes made of 100% cotton to avoid irritants present in other fabrics.
Cover your skin when outside and dress in layers. Remove wet clothing and shoes once inside.
Bathe in warm, not hot water, and apply moisturizers, such as CeraVe, after showering or bathing when your skin is damp. Avoid skin areas already being medicated with prescribed topicals.
Moisturize after hand washing and before bed too!
Wash your hands with a non-fragranced soap.
Drink plenty of water.
Invest in a humidifier for your home.
Don't dry out your skin with the heat at home. Keep your thermostat on a warm, not too hot, temperature.
How Can A Dermatologist Help?
When at-home changes and over the counter products are not enough to control certain cases of eczema a dermatologist can help. Although there is no cure for atopic dermatitis, a dermatologist can help you manage your symptoms so they are no longer as bothersome. 
Dr. Rachel Byrd uses a three-pronged approach when treating her eczema patients:
Decreasing inflammation in the skin
Preventing or treating any secondary infection on the skin surface
Repairing the skin barrier 
"A dermatologist has many methods to help control eczema, varying widely from topical treatments (such as topical steroids or other non-steroid alternatives), antihistamines, antibiotics (either topical or oral), light therapy (done in a controlled environment in the office). In severe cases, oral immunosuppressive medications or injectable biologic medications (such as dupilumab) are prescribed. These therapies are often used together to achieve the best results. I recommend that you work together with your dermatologist to develop a comprehensive treatment plan that is uniquely tailored to you and your skin," says Pariser Dermatologist Specialist Dr. Rachel Byrd.
Key Take-Aways
Atopic dermatitis is a common skin condition that is worsened in the winter months. There are several at-home ways to control your eczema, but sometimes, additional treatments may be required to calm your skin. The physicians and medical practitioners at Pariser Dermatology Specialists are here to help! Call us at 757-622-6315 to schedule an appointment today.