Rosacea is a common skin condition most often seen in adults. Rosacea is also a chronic disease which can be managed with a dermatologist's help.
Some symptoms of this condition can be similar to acne, and people with this condition often notice a tendency to blush easily. The blushing effect usually spreads beyond the nose and cheeks to the forehead and chin, ears, chest, and sometimes the back. 
Rosacea's Effects on Patients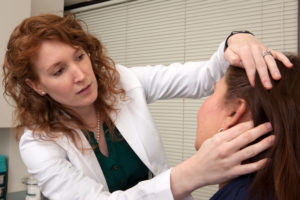 While rosacea can be managed, the symptoms are often frustrating for patients. Some people experience day to day anxiety, not knowing what they will see when they look in the mirror each morning. Others find rosacea is an indicator of their internal health and are very cautious and aware about managing their diet, stress and other factors of their lives.
The severity of peoples' rosacea symptoms varies greatly. Some patients notice only an occasional red bump, similar to an acne spot. Others experience irritated, bright red skin that is itchy and may burn. Rosacea is a chronic skin condition, meaning there is no cure. However, there are treatments which can greatly reduce symptoms and improve the appearance.
Prevention Strategies
There isn't a single cause of rosacea. However, there are several common triggers for the skin condition. Patients who avoid specific triggers often see a decrease in their symptoms. Common triggers include:
Alcohol consumption

Spicy foods and drinks

Hot beverages

Haircare, skincare and makeup products

Sun exposure while exercising

Wind exposure

Stress and anxiety
Routinely wearing sunscreen throughout the year can help prevent rosacea flare-ups. Additionally, identifying whether certain medications might be triggering the skin condition is a good idea.
"Keeping a food journal, noting causes of stress, and recording medications taken when experiencing a flare-up may help pinpoint your triggers," says Pariser Dermatologist Dr. David Pariser. "A board-certified dermatologist can help you determine what causes your symptoms and create a rosacea skin-care plan for you to follow."
Treatment Options
There are several treatment options for rosacea. Treatment will depend on the type of lesions present in an individual patient such as red bumps, widespread redness or dilated blood vessels. Commonly used treatments include:
Medicine that is applied to the rosacea

An emollient to help repair the skin

Lasers and other light treatments

Antibiotics
Additionally, dermatologists can remove the thickening skin that appears on the nose and other parts of the face due to rosacea with:
Lasers

Dermabrasion (procedure that removes skin)

Electrocautery (procedure that sends electric current into the skin to treat it)
It's important to see your dermatologist about rosacea as repeated flare-ups can permanently redden your face. Schedule an appointment with the Pariser team today.