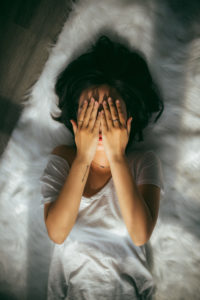 If eczema is haunting your dreams (quite literally), you're not alone. In fact, over 10% of people in the U.S., about 31.6 million people, have some form of eczema according to the National Eczema Association.
In some cases, children may outgrow eczema, but some people will experience symptoms throughout their adult life.
While you may have to live with the condition throughout life, the good news is you don't have to tolerate the challenging symptoms that often accompany eczema.
Dr. Baer to the Rescue: 5 Tips to Relieve Eczema Symptoms
We sat down with one of Pariser Dermatology Specialist's dermatologists, Dr. Robert Baer to understand how eczema is caused, how to recognize it, what it means for someone with the condition, and his top five tips for relief.
What is eczema?
We're all born with different skin conditions. If you're prone to eczema, your immune system is simply different, and you react differently to allergens, pollen and dander.
Someone with this condition has microscopic cracks and crevices along the surface of their skin, making them more prone to dry skin. These cracks are where pollen and allergens enter. As a result, patches of skin become inflamed, itchy, cracked and rough.
What causes this condition?
Eczema typically runs in families, and someone with this condition has a greater chance of having hay fever, asthma, nasal polyps and/or a food allergy. Eczema is genetic which means it is not contagious.
Certain foods and environmental factors can trigger eczema, for example, dairy or pollen. Since this varies by person, it's helpful to write down anything that may have triggered your symptoms in a journal so you can begin to isolate the trigger.
Five Tips for Relief:
Apply moisturizer: Moisturizer is your new best friend. At Pariser Dermatology, we recommend using a moisturizer with ceramides to start. CeraVe is a great over-the-counter option. By applying it daily, you strengthen your skin and make the protective layer of dead skin stronger. If eczema develops on your scalp, you can apply an oil-based product containing a steroid at night, and shampoo it out in the morning.
Stop scratching!: This is the hardest part of having agitated skin, but it's a vicious cycle. By scratching, you damage the skin further, which causes rashes and inflammation that makes the itchiness worse. Most eczema treatments help to reduce itchiness.
Cool the itch ASAP: Try an over-the-counter hydrocortisone cream, and apply it as soon as you develop a rash. This should help cool the itch (and the urge to scratch!). Since eczema can be triggered by environmental factors such as pollen, it can be helpful to take an over-the-counter oral antihistamine as soon as symptoms start. Allegra can be a good option since it is generally safe and non-drowsy.
Wash with a non-soap: While it sounds counterintuitive, washing with a "non-soap," such as the Dove Unscented Sensitive White Bar, is less abrasive and more moisturizing for your skin. This type of cleanser is also a good option for children with eczema. We also recommend washing with water that isn't too hot. And don't forget to moisturize when you're done. (The Cera Ve moisturizer mentioned above is great for kids too).
Visit a dermatologist: If you've tried controlling your eczema with over-the-counter remedies, and your symptoms still keep you up at night, it's time to visit a dermatologist. There have been many new breakthroughs in treatment beyond over-the-counter remedies. So the good news is, there's no reason for you to be haunted by these symptoms.
Depending on severity, eczema can affect people's lives and lifestyle. Sometimes you may itch so much at night that you can't sleep. Other times you simply feel self-conscious and try to cover patchy skin with clothes. Exercising may be difficult because you may not tolerate heat well and sweating is uncomfortable.
I know you're wondering… is it all bad news? There's always a silver lining. For example, if you have eczema, your skin typically isn't oily. Therefore, you're less likely to get acne as a result. More importantly, however, there have been breakthroughs in treatment. You only have to ask for help.
The path to clear, unagitated skin is only a call away. If your symptoms are keeping you up at night, contact your dermatologist to determine the best plan for you and your skin.