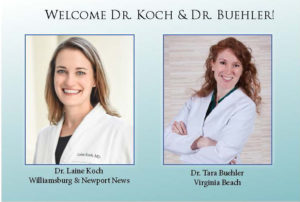 We are thrilled to welcome two new providers to the Pariser Dermatology team! Both Dr. Koch and Dr. Buehler officially joined PDS on April 2, 2018. Dr. Koch sees patients in Williamsburg on Tuesdays and Wednesdays and sees patients in Newport News on Mondays, Thursdays and Fridays. Dr. Buehler practices in our Virginia Beach office on Mondays, Tuesdays and Fridays.
Dr. Koch is a board-certified dermatologist who practices general medical dermatology with special interests in pediatric dermatology, dermatopathology and cosmetic dermatology. She enjoys the diversity of general dermatology and all the unique challenges that arise within this field of medicine.  Click here to learn more about Dr. Koch.
Dr. Buehler is an active member of the American Academy of Dermatology and takes an active role in the dermatologic education of her peers and medical students. Her professional interests include general and medical dermatology as well as skin cancer prevention and treatment. Click here to learn more about Dr. Buehler.