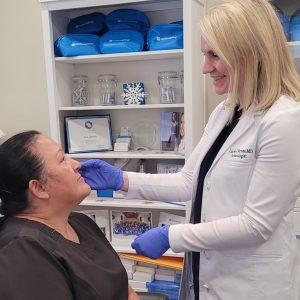 Our cosmetic patients often ask for help in diminishing dark circles under their eyes. It's a common problem with a variety of potential causes, most of which are not cause for medical concern. Lack of adequate sleep, skin tone, facial structure, natural aging and genetics are some of the reasons why you might have dark circles under your eyes.  According to an article in Medical News Today, there is a rather vast array of causes ranging from allergies to the natural aging process.
When a Filler Can Help
Volume loss under the eye often occurs with aging. Thinning of the skin and loss of fatty tissue under the eyes is a common cause of under eye circles. When volume loss under the eye is the culprit, an injectable filler consisting of hyaluronic acid (HA) can help. "As with all cosmetic treatments, a thorough consultation with one of our medical providers is advised in order to assess each unique patient," says Pariser Dermatology's Dr. Lauren Barnes. "Fillers are generally safe for most patients, but are not recommended for anyone who is currently pregnant or who has an active inflammatory rash at the treatment site," says Dr. Barnes.
Treating the Mid-Face
"I find that treating the mid-face or cheeks, the focal point of the female face, often improves the appearance of dark circles while it also accentuates the cheekbone area," says Dr. Barnes. The procedure can be done with either sharp-tipped needle or a blunt-tipped cannula. When she injects HA filler to the area under the eyes, Dr. Barnes often uses a cannula because it reduces the potential for bleeding and bruising. "I'll administer the filler by injecting the cannula into the cheek area and gliding under the skin to the treatment site," says Dr. Barnes. Although topical numbing cream can be used before treatment, most patients tolerate the procedure well and find that they don't need it.
How Long Does it Last?
When you and your doctor determine that dermal filler is right for you, you might be given a prescription for a topical numbing cream to bring along to your appointment so that it can be applied before your treatment. The procedure lasts for approximately 20-30 minutes. Some minor bruising and swelling might last for a day or two.  You should notice the effects soon after your treatment and the results will last for approximately one year.
"Dermal filler is highly effective in treating most patients with dark circles under their eyes. However, there are some situations where laser treatment or surgical correction is a better alternative. Every patient is unique," says Dr. Barnes.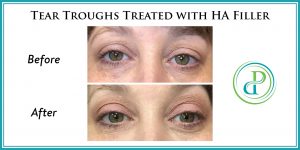 How To Book Your Consultation
In order to determine the best method of treatment for your particular concern, we encourage you to book a cosmetic consultation with one of our medical providers.
If you'd like to book a cosmetic consultation call us at 757-622-6315 or click here to request an appointment online.