By Pariser Dermatologist, Dr. Laine Koch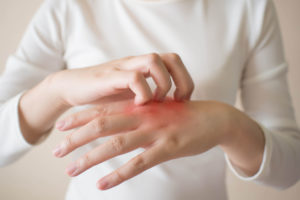 Handwashing helps keep you healthy by preventing the spread of germs from one person to the next. It's one of the best ways to protect yourself and your family from getting sick.
The Proper Way to Wash Your Hands
According to the Centers for Disease Control & Prevention (CDC), we should wash our hands for at least twenty seconds with warm, soapy water especially after we have been in a public place, after blowing our nose, sneezing, coughing or using the bathroom. When soap and water are not available, use an alcohol-based hand sanitizer containing at least 60% alcohol.  While this is critical to minimize the spread of viruses, bacteria, and even fungi, frequent handwashing and using hand sanitizers can wreak havoc on our skin, especially for those prone to hand eczema.
How Handwashing Affects Hand Eczema
The skin protects itself by producing natural oils from oil glands. Soaps and alcohol remove these oils and when the skin is stripped of its protective oils, it becomes dry.  When the skin becomes too dry for an extended period of time, it can result in peeling, scaling and small breaks in the skin. These breaks in the skin are called fissures and can be very painful.  One may also develop intense itching of the skin. Dermatologists often find these symptoms in patients with hand eczema.
Other Causes of Hand Eczema
Frequent handwashing may not be the only cause of hand eczema. Work or hobbies which require frequent exposure to water or harsh chemicals can also cause hand eczema. Some individuals also lack ceramides in their skin. Ceramides are one of the building blocks of the skin and help protect the skin from outside irritants or allergens. Patients with eczema on other parts of their body or who have a history of allergies, may be missing these ceramides leading to a less effective skin barrier.
Ways to Improve and Treat Hand Eczema
Use a gentle, fragrance-free cleanser such as Dove®, Cerave® or Aveeno®.
Limit the use of hand sanitizer when able (opt for soap and lukewarm water).
Avoid scalding, hot water.
Pat your skin dry with a soft, clean towel or air dry. Do not rub vigorously.
Apply moisturizer frequently. Thick creams and ointments are more hydrating and are preferable to lotions. Look for moisturizers containing ceramides such as Cerave® brand products or thick, ointment-based moisturizers that really lock in moisture like Alastin® Skincare's Soothe + Protect Recovery Balm.
Protect your hands with gloves when washing dishes, working outdoors or cleaning. Household disinfectants can be especially irritating to the skin, so avoid direct contact with harsh cleansers.
If your work or hobbies are impacting your skin, wear gloves whenever you're able.
Ways to Treat Hand Eczema
If you experience small cracks or fissures in the skin, apply a skin sealant such as a liquid bandage. This allows the crack to heal from the inside out. It also covers those open nerve endings which can be painful when exposed to air. If you don't have a liquid bandage, Superglue is a great alternative. If you are using a skin sealant, only apply the product over the cracked skin. It does not need to cover a large area of skin.
When to See a Dermatologist
If you have developed more severe symptoms, you should see your dermatologist for further evaluation. Some conditions can mimic hand eczema and a more thorough evaluation may be needed.  You may need a prescription medication to improve your symptoms.
As with any condition affecting your skin, hair or nails, if you are concerned and need some help, give us a call at 757-622-6315 to schedule an appointment or text us at 804-463-5148. We would also love to see you for a Live Telemedicine visit.