Sunburns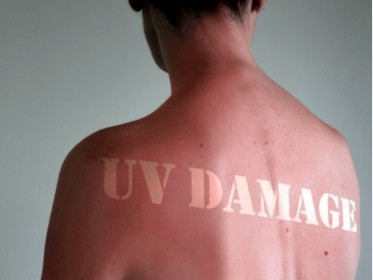 Prevention
Use these methods to prevent sunburn, even on cool, cloudy or hazy days. And be extra careful around water, snow, ice and sand because they reflect the sun's rays. In addition, UV light is more intense at high altitudes.
Avoid sun exposure between 10 a.m. and 4 p.m. The sun's rays are strongest during these hours, so try to schedule outdoor activities for other times. If you're unable to do that, limit the length of time you're in the sun. Seek shade when possible.
Cover up. Wear tightly woven clothing that covers you, including your arms and legs. Consider wearing clothing or outdoor gear specially designed to provide sun protection. Check the label for its ultraviolet protection factor (UPF), which indicates how effectively a fabric blocks damaging sunlight. The higher the number, the better. Dark colors offer more protection, as do fabrics treated with UV- absorbing chemicals.

Also wear a broad-brimmed hat, which protects you better than a baseball cap or golf visor does.

Use sunscreen frequently and generously. No matter what your skin type is, use a broad-spectrum sunscreen with an SPF of 15 or greater. The American Academy of Dermatology recommends using a broad-spectrum sunscreen with an SPF of 30 or greater.

Apply sunscreen generously, and reapply it every two hours — or more often if you're swimming or perspiring. If you're also using insect repellent, apply the sunscreen first. The Centers for Disease Control and Prevention does not recommend products that combine an insect repellent with a sunscreen.

You may use sunscreen on toddlers and babies 6 months or older. But for younger babies, the American Academy of Pediatrics recommends using other forms of sun protection, such as shade or clothing.

Wear sunglasses when outdoors. You offer your eyes the best protection outdoors by choosing the highest UV protection-rated sunglasses. Darker lenses are not necessarily better at blocking UV rays. Check the UV rating on the label when buying new glasses. It also helps to wear sunglasses that fit close to your face and have wraparound frames that block sunlight from all angles.
Don't expect a base tan to protect. Some people think getting a base tan prevents sunburn. The idea is that a few sessions of indoor tanning will protect them from burning in the sun. Research doesn't support this. A base tan is no substitute for good sun protection. Plus, the risks of long-term tanning outweigh the unproven benefits of a base tan.
Risk factors
Having fair skin
Living or vacationing somewhere sunny, warm or at high altitude
Working outdoors
Mixing outdoor recreation and drinking alcohol
Having a history of sunburn
Regularly exposing unprotected skin to UV light from sunlight or artificial sources such as tanning beds
Taking a drug that makes you more likely to burn (photosensitizing medications)
Treatments and drugs
Sunburn treatment doesn't heal your skin or prevent damage to your skin, but it can reduce pain, swelling and discomfort. If at-home care doesn't help or your sunburn is very severe, your doctor can prescribe medications. These include:
Pain relievers. Over-the-counter and prescription pain relievers may help control the pain and swelling of sunburn, especially if you take them soon after sun exposure. Your doctor may recommend ibuprofen or naproxen. Some types of pain relievers may be applied to your skin as gels.
Medications that control itching. Corticosteroids that you apply to your skin may help control itching as your skin heals. These medications are often combined with pain relievers.