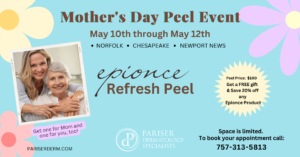 If you've never had a chemical peel, you're in for a treat! The Epionce Refresh Peel is a one-step "lunchtime" peel that offers:
No downtime

Gentle enough for all skin types

Enhances your skin's radiance and glow

Beneficial for patients with rosacea, perioral dermatitis or grade 1 or grade 2 acne.
Now, when you book a Refresh Chemical Peel from May 10th through May 12th, you'll receive a FREE cosmetic gift and you'll save 20% off any Epionce skincare product. Chemical peels make a great gift for Mom, and for you, too! Choose from 3 dates at 3 of our office locations: Newport News, Norfolk or Chesapeake.  The price of this special peel is $100.
Registration is required as well as a $25 booking fee that will be applied to the cost of the peel. 
*This event is SOLD OUT. Please call us at 757-313-5813 if you would still like to book a Refresh Chemical Peel.*