Deborah Quinn, RN, MSN, FNP-C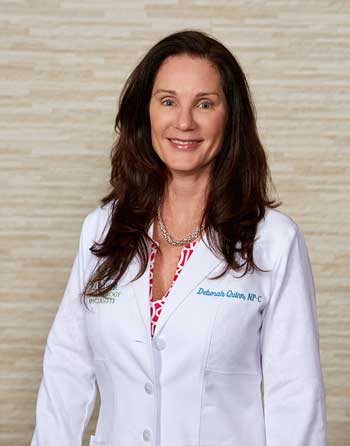 Request an Appointment
757 622-6315
Undergraduate
Old Dominion University, Norfolk, VA 2007 B.S. Nursing
Postgraduate
Old Dominion University, Norfolk, VA 2008 M.S. Nursing
---
Locations
733 Volvo Pkwy, Suite 120
Chesapeake, VA 23320
(757) 389-5544
(757) 410-4619 fax
Get Directions
6160 Kempsville Circle, Suite 200A
Norfolk, Virginia 23502
(757) 461-5656
(757) 461-7495 fax
Get Directions
1248 Perimeter Pkwy. Suite 482
Virginia Beach, Virginia 23454
(757) 496-5085
(757) 496-5084 fax
Get Directions
---
About Deborah Quinn, RN, MSN, FNP-C
Deborah is a certified family nurse practitioner specializing in dermatology. She began her career as a Registered Nurse and has over 12 years of medical experience. She received her Master of Science in nursing degree with honors from Old Dominion University and is Board Certified by the American Academy of Nurse Practitioners. Additionally, she received specialty training in dermatology through our training program at Pariser Dermatology. Her professional affiliations include the Dermatology Nurses' Association and the Virginia Council of Nurse Practitioners. In addition to practicing medical and surgical dermatology, Deborah has training and experience in performing cosmetic procedures such as Botox injections, chemical peels and dermal fillers such as Juvaderm. Deborah possesses a friendly, outgoing personality and a warm bedside manner.
Lindsay Seddon 3
"I think my provider is beyond Excellent! I even leave work early and take time off as well to travel to wherever she is at... That is how awesome she is."
Lindsay Seddon 2
"Always very helpful and professional"
Lindsay Seddon 1
"Lindsey is absolutely wonderful! I only see her and have traveled to all 3 locations due to my absolute trust in her as a provider"