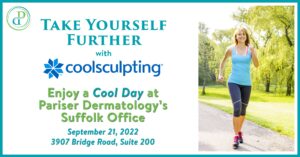 Discover CoolSculpting at our Suffolk Office on September 21st
Freeze fat away for good with CoolSculpting®  –a nonsurgical, scientifically proven way to reduce pockets of fat in trouble spots such as the abdomen, flanks, or under the chin. Schedule your personal CoolSculpting consultation with our trained and certified CoolSculpting specialist. Your clinician will discuss your goals for reshaping your body. Together, you'll look at your body from different angles and then focus on specific areas where you want to eliminate fat. You'll get special savings on CoolSculpting® and a free cosmetic gift, too!
Book your appointment on September 21, 2022 at our Suffolk office located at 3907 Bridge Road, Suite 200, and choose your time below.  A $25 registration fee is required and will be applied to your treatment.